Saturday, January 03, 2004
I told you I was smart...
|
Showcase vote..
|
Iowa State 72, Eastern Illinois 55
|
Lying Liar...
Report: Rose admits in book to betting on baseball
Pete Rose admits in his upcoming autobiography that he gambled on baseball, The Philadelphia Inquirer reported Saturday.

The newspaper cited an unidentified source who was briefed on the book.

The New York Times, citing a source in major league baseball, reported Wednesday that Rose admitted to betting on baseball at a meeting with commissioner Bud Selig.
Jim Gray was criticized for asking Rose some tough questions at the 1999 World Series. Excerpt:
Gray: Pete, let me ask you now. It seems as though that there is an opening. The American public is very forgiving. Are you willing to show contrition, admit that you bet on baseball and make some sort of apology to that effect?

Rose: No, no, Jim, not at all. I'm not going to admit to something that didn't happen. I know you get tired of hearing me say that, but I appreciate the ovation. I appreciate the American fans voting me on that All-Century team. I'm just a small part of a big deal tonight.
Pete, you said it didn't happen. For over a decade you've denied that you bet on baseball. You knew the rules and you willingly broke them. Feel free to visit the Hall of Fame anytime you want, but don't expect to see a plaque with your face adorning the walls anytime soon.




|
Saturday Dog Blog...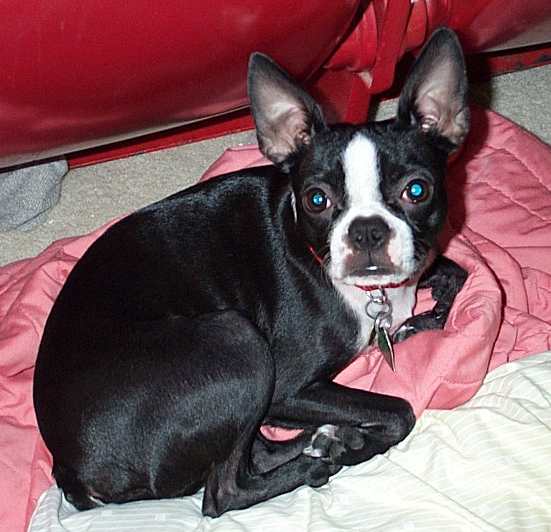 This is Zoe. She's my 18 month old Boston Terrier. Bow down before her cuteness. All shall love her and despair.
|
Is Ann Coulter review Ann Coulter's Book?
|
They would never abuse their power...
TalkLeft: Las Vegas Casinos, Airlines Ordered to Give FBI Information
Still think the Patriot Act and similar legislation won't be used against you? Then we hope you didn't go to Vegas for New Year's. The FBI ordered Las Vegas casinos and airlines to give them information on guests and travelers:

Las Vegas hotel operators and airlines serving McCarran International Airport are being required by the FBI to turn over all guest and passenger names and personal information, at least during the holiday period, several sources said Tuesday.
I'm heading to Vegas a week from Monday. I guess I should expect a visit from the brownshirts authorities when I return home.


|
Wednesday, December 31, 2003
But Creed rocks for Jesus...
Yahoo! News - Limp Bizkit, Creed Worst Bands of Year - Poll
Limp Bizkit, which suffered sales of its long-awaited new album, has been named worst band of the year by readers of Guitar World magazine.

Creed, another act that draws sharp reactions, came in at No. 2 even though the Christian combo took the year off.
These two get my vote for Worst Band Ever. I can't wait to see Fred Durst on "Where Are They Now?"

|
Of course we're angry. You're squatting in Al Gore's house...
Yahoo! News - Bush Cites Democrats' 'Angry Attacks'
President Bush cited "angry attacks" by Democrats in a fund-raising appeal to potential donors on Wednesday.
...
"Whoever wins the nomination will have done so by energizing their party's left wing with angry attacks," Bush wrote.
...
"As we saw so clearly in 2000, every vote matters," Bush wrote.
Damn right every vote counts. I believe the final vote count was something like 5 to 4.

A second Bush term will be much worse than the first. Do whatever you can to boot his ass back to Midland. Regime change begins at home!
|
The whole damn family is corrupt...
Yahoo! News - AP: Neil Bush Makes 1-Day Stock Windfall
Cashing in stock options before the market crashed, presidential brother Neil Bush made at least $171,370 in a single day by buying and selling shares in a small U.S. high-tech firm where he had previously been a consultant, according to tax returns that give a glimpse into his business dealings.

The July 19, 1999 purchase and quick sale of stock from Kopin Corp. of Taunton, Mass., came on a day that the company received good news about a new Asian client that sent its stock value soaring.

"My timing on this transaction was very fortunate," Bush told The Associated Press.
No shit. Insider information usually leads to fortunate transactions. Please join Kenneth Lay in the Will Never Face Prosecution Lounge. Drinks provided by the U.S. taxpayer.

|
A Brilliant Proposal...
This makes so much sense. I wish I'd thought of it.

Calpundit:
Assuming a normal 2000-hour work year, congressmen make about $75/hour right now. How about simply making the minimum wage equal to 10% of that? Congress can then increase their own salaries anytime they want, but only if they're willing to help out the working poor at the same time.
|
Cyclone Update...
|
Tuesday, December 30, 2003
Rot in hell...
Unrepentant spammer to carry on, within the law | CNET News.com
Alan Ralsky, according to experts in the field, has long been one of the most prolific senders of junk e-mail messages in the world. But he has not sent a single message over the Internet in the last few weeks.

He plans to resume in January, he said, after he overcomes some computer problems, and only after he changes his practices to include in his messages a return address and other information required by the law, the title of which stands for Controlling the Assault of Non-Solicited Pornography and Marketing.
...
"The law was not written for a commercial e-mailer," he said. "I don't think what they are doing is fair." He suggested that the law was largely a plot by the big companies that connect homes and businesses to the Internet to keep all the profits from online marketing for themselves.

"I have never once been ashamed of what I do," he said. "I feel this is a business that has afforded me and my customers a better way of life."
...
"I have changed the way we mail totally," he said. The spam fighters, he added, "have no idea what I'm mailing. They could never pinpoint it and say this is from Al Ralsky."

Ralsky said that he was uncomfortable about this deception, but that he had no choice. "Is putting bogus information in your registrations the right way to do business?" he asked. "No. But the Internet world has forced me to do that."
Hey Ralsky! Can I have your email address? I have some wonderful offers for penis enlargement and mortgage refinance that I would love to share with you.

His home address was published on the net last year. His response is quite amusing.
"They've signed me up for every advertising campaign and mailing list there is," he told me. "These people are out of their minds. They're harassing me." Ralsky is indeed annoyed. He says he's asked Bloomfield Hills attorney Robert Harrison to sue the anti-spammers.
By the way, that address is:

6747 Minnow Pond Drive
West Bloomfield, MI 48322

Enjoy!

|
Cheaters...
Yahoo! News - Names of Drug-Positive Athletes Released
Capping a year of sports drug scandals, the U.S. Olympic Committee announced Tuesday that sprint champion Kelli White and six other American athletes tested positive for banned substances.

White and five other track and field athletes tested positive for the banned stimulant modafinil. Hammer thrower John McEwen tested positive for modafinil and the newly discovered steroid THG, and cyclist Adham Sbeih became the first U.S. athlete to test positive for the endurance-boosting hormone EPO.

Also testing positive for modafinil at the national track championships were sprinter Chryste Gaines and hurdlers Sandra Glover and Eric Thomas. Another hurdler, Chris Phillips, tested positive for modafinil at the world championships.
Ban them for life.

Now let's hear some of the names from Major League Baseball. Sammy Sosa? Bret Boone? Greg Vaughn? Your piss cups are ready.

|
What took so long?
Yahoo! News - Ashcroft Removes Self From CIA Leak Probe
In a move cheered by Democrats, Deputy Attorney General James Comey announced that Ashcroft had stepped aside to avoid the appearance of a conflict of interest after reviewing evidence recently developed in the inquiry. He would not specify the nature of that evidence.
...
The leaker could be charged with a felony if identified. The FBI (news - web sites) has interviewed more than three dozen Bush administration officials, including political adviser Karl Rove and press secretary Scott McClellan.
Could be charged with a felony but won't be. It was Rove. Admit it. You committed treason and you should see the inside of a jail cell for many years. But you won't because Republicans are never held accountable for the evil they do.

|