Tuesday, December 16, 2003
Piss Bottle Man...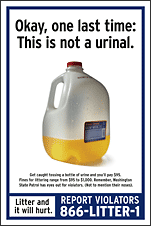 SeattlePI.com prings us this little gem. Highway workers lament increase of human waste.
Forced to clean up an increasing number of jugs and bags of human waste along highways, the Adams County Waste Reduction & Recycling office took out a full-page newspaper advertisement to combat the problem.

The ad features a photo of a plastic milk jug filled with urine, and the message, "Okay, One last time: This is not a urinal."

From March 4 to Nov. 27, 2002, one Adams County highway cleanup crew picked up 2,666 jugs of urine and 67 bags with human excrement in them.
WTF?

A PDF version of the picture is available here.
|